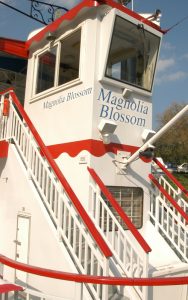 Our downloadable menu is a sampling of our most popular menu suggestions.
We cruise the Mississippi, and offer a world of international dining. Our cruises offer excellent cuisine ranging from hors d'oeuvres to fine dining, with professional service, plus a nostalgic charm, making yours an event that that will long be remembered.
We do not prepare our own food; instead we make certain you have the best food on the river. We will arrange for food through a number of our affiliated restaurants and caters offering an almost limitless selection.
We will be glad to help plan a custom menu just for you.