"All of our charter cruises, formal or informal, are customized to fit your needs and ideas. The planning and execution of your cruise will be personally and professionally handled. Leave it all to us!
We will arrange everything from start to finish to accommodate you and your guests, including table settings, menu requests, entertainment and special decorations.  The Magnolia Blossom is available for weddings and receptions, corporate sales meetings, award banquets, customer appreciation parties, birthdays, retirements, weddings, luaus, or any other theme occasion which requires that extra special attention.
We deal exclusively with groups for private parties or events. When you charter with us, the boat is yours, no additional groups, individuals or excursion passengers are combined with your exclusive cruise.  You may dictate sailing time, length of cruise and direction or destination of cruise.
Hope to see you onboard!"  -Capt. Dan Dickinson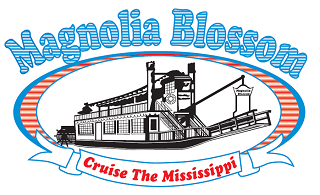 ---